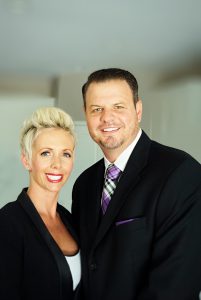 Our Philosophy
OUR PHILOSOPHY IS SIMPLE: CLIENTS COME FIRST. WE PLEDGE TO BE IN CONSTANT COMMUNICATION WITH OUR CLIENTS, KEEPING THEM FULLY INFORMED THROUGHOUT THE ENTIRE BUYING OR SELLING PROCESS. WE BELIEVE THAT IF YOU'RE NOT LEFT WITH AN AMAZING EXPERIENCE, WE HAVEN'T DONE OUR JOB. WE DON'T MEASURE SUCCESS THROUGH ACHIEVEMENTS OR AWARDS, BUT THROUGH THE SATISFACTION OF OUR CLIENTS.
---
---
Meet Richard & Franchesca Hanahoe known as the Expansive Agent Group they believe in "Building Lasting Relationships". Together Richard and Franchesca have a combined 20+ years of experience in real estate. When the market crashed Richard and Franchesca started their own company using Richards background as a builder- developer and utilizing Franchescas customer service skills from being in the customer service industry for over 15 years.
In 2009 they began purchasing, renovating and selling properties. They were able to work with hedge funds and private investors to successfully sell over 200 properties in the Central Florida area.
This is why Richard and Franchesca understand how stressful it can be when trying to purchase or sell a home while also preparing for the next home. They are able to overcome obstacles that can arise in a transaction and help provide multiple solutions to whatever your current situation may be.
In 2012, as the real estate market started to stabilize and even incline, Richard and Franchesca transformed their business into helping clients with residential real estate and became a part of the luxury market in Orlando, FL where they quickly were able to use their knowledge of the industry to become top producers and successfully provide several families their dream home. Coming from an investment background has given Richard and Franchesca strong negotiation skills, an ability to quickly determine a property's value and deliver actual proven methods of marketing and staging that have produced results.
They are truly committed to delivering a constant level of concierge service to their clients with every transaction and beyond. Richard and his wife Franchesca now reside in Venice, FL where they continue to serve the southwest Florida real estate market focusing on all of Sarasota county. They have four children two of which attend middle school.
OUR MISSION STATEMENT: Our philosophy is simple, clients come first. We pledge to be in constant communication with our clients, keeping them fully informed throughout the entire buying or selling process. We believe that if you're not left with an amazing experience, we haven't done our job. We don't measure success through achievements or awards, but through the satisfaction of our clients.
Make sure to watch our YouTube channel for more information on what it's like to live in Sarasota!
---
 Welcome To Our Website
Welcome to Expansive Agent Group's website.
This site is to serve as a tool for our buyers and sellers.
Whether you're looking to relocate or build your dream home this site has area information for everyone.
If you would like to schedule a zoom with Richard & Franchesca make sure to send an email to [email protected]
If you ever need a hand or have any questions, feel free to leave them below and we will be more than happy to help you out.
All the best,
Richard & Franchesca Hanahoe
Franchesca Hanahoe and Richard Hanahoe
EXP Realty, LLC
5039 Ocean Blvd.
Siesta Key, FL 34242

Call/Text us at (321) 307-2246
Email: [email protected]